Unit 18b High School
Unit Overview
Subjects Covered

Grammar, Literature, Composition, History

Time Period

Modern

Grade Level

High School: 9 – 12

Civilization

American

Literature

Animal Farm – by George Orwell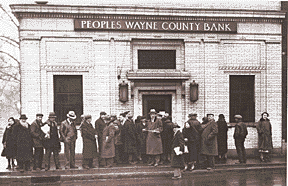 Unit Description
When America hit rock bottom, Americans expected bold leadership.
Herbert Hoover was perceived as doing nothing to help when the nation was in its darkest hour. When the votes were tallied in 1932, Americans made a strong statement for change and sent Franklin Delano Roosevelt to the White House. Ironically, Roosevelt made few concrete proposals during the campaign, merely promising "a new deal for the American people." The plan that ultimately emerged during his presidency was among the most ambitious in the history of the United States.
Leading Ideas and Biblical Principles
All philosophies, values and belief systems should be viewed and judged in light of Scripture and not man's wisdom.
Do not be wise in your own eyes; fear the Lord and shun evil. — Proverbs 3:7
See to it that no one takes you captive through hollow and deceptive philosophy, which depends on human tradition and the elemental spiritual forces of this world rather than on Christ. — Colossians 2:8
Unit 18b Resources: High School
Resources:
VIDEOS ON THIS WEBSITE SHOULD BE PREVIEWED BY PARENTS BEFORE ALLOWING STUDENTS TO WATCH VIDEOS. SOME VIDEOS MAY CONTAIN INFORMATION ON SENSITIVE TOPICS.
The Presidential Election 1932
Additional Maps:
Arts: