Unit 19 High School
Unit Overview
Subjects Covered

Grammar, Literature, Composition, History

Time Period

Modern

Grade Level

High School: 9 – 12

Civilization

American

Literature

Works of Poetry from World War I and Speeches from World War II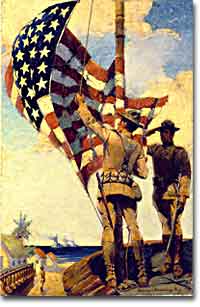 Unit Description
Storm clouds were darkening around the world. While Americans struggled to make ends meet during the Great Depression, fascism swept Italy and Germany. On the other side of the world, militarists consolidated their hold on the Japanese government. Soon fears of fascist domination were realized as nations fell, hapeless victims to new aggressive leaders. Remembering the scars caused by World War I, Americans hoped against hope to remain aloof from the increasingly dangerous world.
Leading Ideas and Biblical Principles
Just as America began taking steps to prepare to enter World War II, Scripture talks about preparing for spiritual warfare as well.

Put on the full armor of God, that you may be able to stand firm against the schemes of the devil. For our struggle is not against flesh and blood, but against the rulers, against the powers, against the world forces of this darkness, against the spiritual forces of wickedness in the heavenly places. Therefore, take up the full armor of God, that you may be able to resist in the evil day, and having done everything, to stand firm. Stand firm therefore, having girded your loins with truth, and having put on the breastplate of righteousness, and having shod your feet with the preparation of the gospel of peace; in addition to all, taking up the shield of faith with which you will be able to extinguish all the flaming missiles of the evil one. And take the helmet of salvation, and the sword of the Spirit, which is the word of God. — Ephesians 6:11-17



Unit 19 Resources: High School
Resources
VIDEOS ON THIS WEBSITE SHOULD BE PREVIEWED BY PARENTS BEFORE ALLOWING STUDENTS TO WATCH VIDEOS. SOME VIDEOS MAY CONTAIN INFORMATION ON SENSITIVE TOPICS. 
Timeline of the Pearl Harbor Attack
Additional Maps:
Videos:
Arts