Unit 26 High School
Unit Overview
Subjects Covered

Grammar, Literature, Composition, History

Time Period

Modern

Grade Level

High School: 9 – 12

Civilization

American

Literature

Out of the Silent Planet – by C.S. Lewis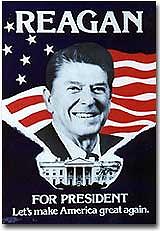 Unit Description
Americans were fed up.
In 1980, confidence in the American economy and government hit rock bottom. Looking for a change and the promise of a better future, voters turned to Ronald Reagan for answers.
His message was clear. Government had become too big and needed to be trimmed down to size. Taxes were insanely high and needed to be cut in order to stimulate growth and investment. Military spending should be increased to block Communist expansion and fix the degenerating state of the American war machine. Morality and character needed to be reemphasized in American life. The United States was still the largest superpower in the world with the best system of government. It was time to feel good about being an American again.
Leading Ideas and Biblical Principles
Honesty is a character quality to be desired.

The Lord detests differing weights, and dishonest scales do not please Him.. — Proverbs 20:23

The Bible provides the ethics upon which to judge people and nations.
God is sovereign over the affairs of men.

From one man He made all the nations, that they should inhabit the whole earth; and He marked out their appointed times in history and the boundaries of their lands.. — Acts 17:26



Unit 26 Resources: High School